The Gaia group at the Universitat de Barcelona (IEEC – ICCUB), in cooperation with DAPCOM, has published an alternative copy of the bulk data files from Gaia DR2 – the second data release from Gaia, where DAPCOM has made significant contributions.
Gaia DR2 was published on 25 April 2018. Besides the on-line catalogue, bulk CSV files were also made available for download – an interesting option for exhaustive analyses. Such files are officially offered in "csv.gz" format, that is, compressed with the widely known gzip compressor.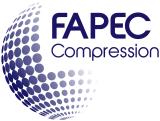 On 6 February 2019, we released FAPEC Archiver 19.0, our professional data compression software offering high compression ratios at high speeds. One of the options provided is the compression of tabular (CSV-like) text files, such as those from the bulk Gaia DR2. As a demonstration of the capacities of FAPEC, we converted the full Gaia DR2 bulk CSV files to the FAPEC format, reducing the total size from 554 GB to 471 GB – that is, 15% smaller than with gzip. Other data compressors like bzip2, rar, Zstandard or 7-zip cannot reach this mark. Specifically, for the largest tables:
gaia_source has been reduced from 548 GB to 466 GB. We have also combined several CSV files into larger FAPEC archives to improve download transfer speeds.
gaia_source_with_rv, from 3.1 GB to 2.5 GB.
light_curves, from 2.3 GB to 1.9 GB.
You can now download Gaia DR2 in csv.fapec format here:
Gaia DR2 csv.fapec bulk download
There you will also find the scripts used for the gzip-to-fapec conversion, as well as the log files from the process, during which we checked each of the files to make sure no data was lost or corrupted.
Free FAPEC decompression licenses can now be obtained from our website.
Have fun!
https://www.dapcom.es/wp-content/uploads/2019/02/gaialogo-1.png
376
377
Jordi Portell
https://www.dapcom.es/wp-content/uploads/2023/09/dapcom.png
Jordi Portell
2019-02-08 11:19:00
2019-02-08 11:28:11
Gaia DR2 bulk catalogue available in FAPEC format